The 2019 New York Auto Show started last weekend and runs through Sunday night, April 28. The first weekend, several auto makers made big splashes with both concept vehicles as well as new and/or special model introductions.  This week, we're bringing you the best of the New York auto show, so far. And, to be honest, there have been some really smoking hot cars rolled out this past week.  Check it out below! Let us know what your favorites are.
Genesis Mint Concept Car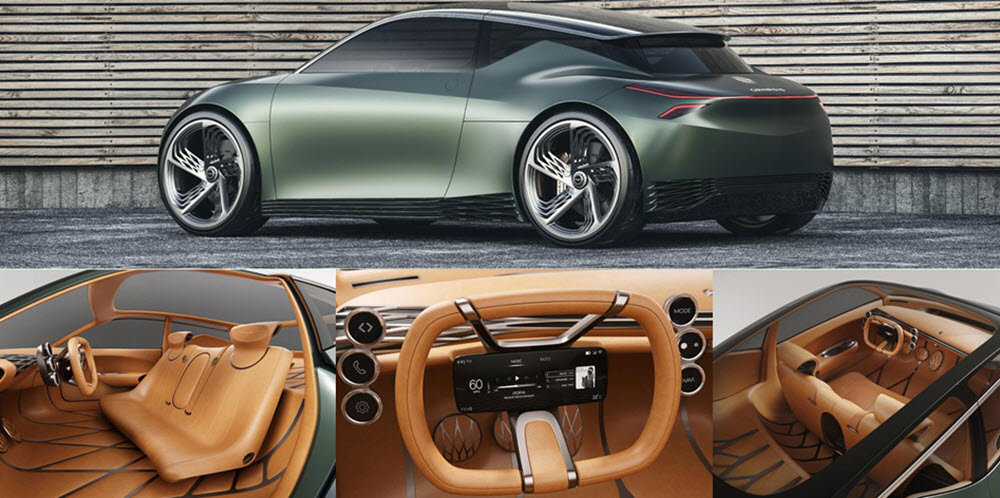 While there are some really cool vehicles at this show, Genesis absolutely steals the show with this forward thinking, futuristic, all electric, ultra luxurious concept car. I mean, wow. Genesis, Hyundai's luxury brand, stated that their goal was to make a chic luxury city vehicle. Just look at this beauty. First, the body lines scream out chicness, don't they? It's sleek meets chic and this baby has it in spades. Hidden in these sleek body lines are two back doors.  That's right, back doors. This two seater, instead of using a hatch like a practical car would, includes two rear doors. These doors are located just above the rear wheel well and open straight up and back. It's a really cool look, and I probably should have grabbed a photo, but you'll have to use your imagination. Probably not the most practical thing in the world for loading luggage, but, hey, this is a concept car, not a practical car.
The interior is chic and sleek as well. The front seats slide back when the doors are opened for easy passenger egress and the dash is the ultimate in minimalists contemporary design. This all electric vehicle design allows for the open cabin feel making a very tiny car seem very spacious inside. The center steering wheel display includes takes the place of in-dash displays seen in current production vehicles and there's only 6 additional cooper clad gages on either side of the steering wheel on the dash. I really like the radical rectangular steering wheel. This little baby has a range of about 200 miles, and includes a fast charging feature.  While this just a concept car, Genesis has indicated that it wants to bring something like this to production in the near future. I wouldn't hate it.
Volkswagen Tarok Mini Pickup Concept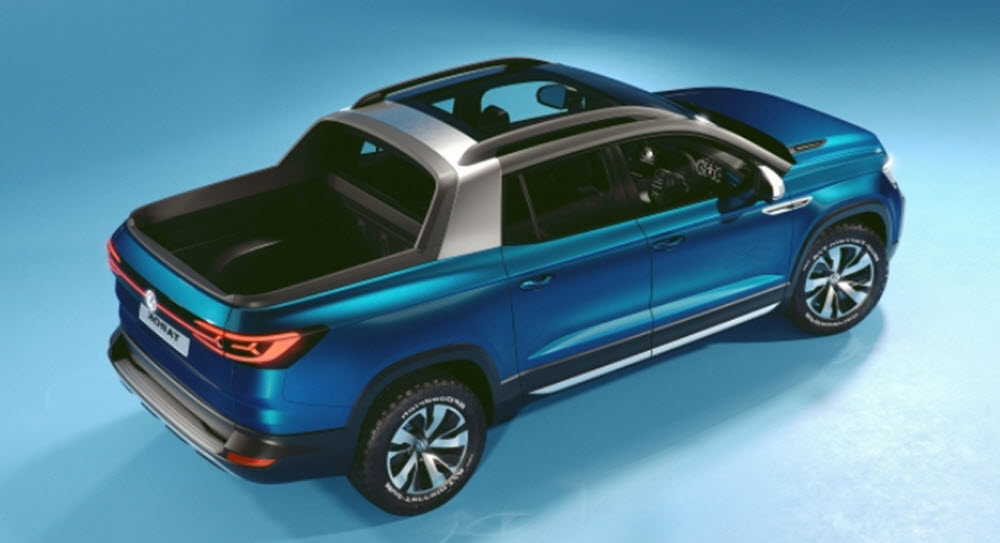 Leave it to VW to come out with a concept of something whose time we thought had passed.  This isn't your father's mini pickup of the past (looking at you Toyota and Nissan), but something brand new. This is the second year in a row that VW has rolled out a pickup concept at an auto show to "gauge consumer's reactions", but this year, they went small. But, even at this size, the truck bed, with some help from the interior configuration, can accommodate payloads up to 7 feet long. What? How's that? Well the panel between the bed and cabin can be folded down and the payload can slide all the way to the front seats. Pretty nifty, actually.
Volkswagen says it wants to overcome the idea that trucks have to be big and energy inefficient to be effective. Maybe they'll show that. While the Tarok was introduced as a concept vehicle, VW is already planning on rolling these into production and selling them, at least initially, in South American markets. What are your thoughts on a "mini" pickup? I'm here for it.
Kia HabaNiro Concept Car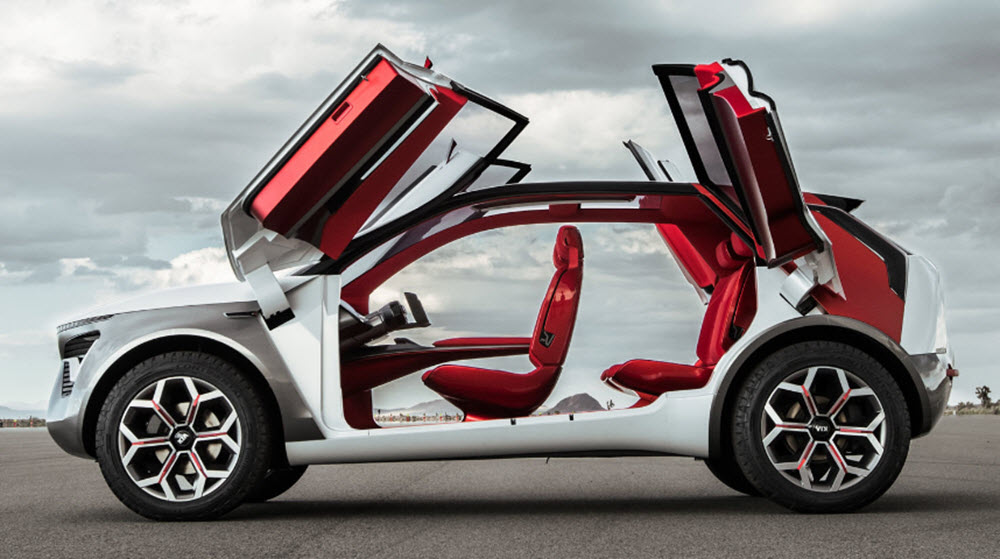 If it hadn't been for the Genesis Mint, the Kia HabaNiro would have absolutely stolen and decimated the New York Auto Show. And, maybe I overstated the case that the Mint was the clear show stealer. I mean, come on, look at this hot little gal! Where the Mint was sleek and chic, the HabaNiro is funky, flashy, and fun. The name is a play on the current production Niro model, Kia's hybrid/ecar crossover. HabaNiro is the Niro's hotter, flashier, more fun little sister. Kia fully intends to use the HabaNiro as their jumping off point for the 2nd generation Niro, and I think they are definitely heading in the right direction. While the butterfly doors and the absence of a b-pillar probably won't make the production model cut, the overall body style and interior details will be pulled on heavily into creating the next gen Niro, and that's definitely a step in the right direction.
Some cool interior features include biometric ignition and a heads up display with augmented reality in the windshield, Kia is looking to the future and hoping to lead the way. The cabin is spacious (again a benefit of an all electric vehicle) and sharp, with bright red leather interior. Since the display is in the windshield, the dash is sleek and shiny all the way across which is pretty funky.
Love the stance of this car, the wheels are really rad, and the overall look and feel is definitely funky and fun. We'll lose some of that as they move into production, but here's hoping they keep the overall color scheme (including the red pepper c-pillar) and the grey cladded wrap on the front fender and bumper. If the production model is half as funky, I may have to check them out myself.
2020 Porsche 911 Speedster

Not all the super cool vehicles were concept cars. First introduced as a concept car in 2018, the Porsche 911 Speedster is a fricking next level 911. This ain't your daddy's 911. Yes, Porsche has made Speedsters before. But this time, it's different. Looking for a way to send off their 991-gen 911, Porsche gives us the ultimate 911 Speedster. In a nod to the 356 Carrera Speedsters of the 50s and their GT3 race cars, this 911 Speedster features a 4.0-liter naturally aspirated flat-six and six-speed manual from the GT3.  The engine also includes independent throttle bodies like their GT3 and, man, can this beauty scream! We're talking 500+ horses and almost 350 pounds of torque. And, you're looking at 0-60 mph in just over 3 seconds.
Yes, she's fast. Yes, she's powerful. She sounds amazing! But can we just step back and admire the beauty that is the 991-generation 911? And, convertible, to boot? Sleek is often an overused word, and I'm certainly guilty of it. But it applies here, right? Sexy, even? The stance is just on point, the sloping hood with the classic 911 headlights. Yep, I'm in love. So, what's this going to cost me? Let's see, hmm, that can't be right. Oh, my. Porsche is only building 1948 in total to match the year it first hit the road. So, that impacts the price, right? It's $275,000. OK, maybe I'll have to settle for that Mazda Miata afterall.
2020 Nissan 370Z 50th Anniversary Edition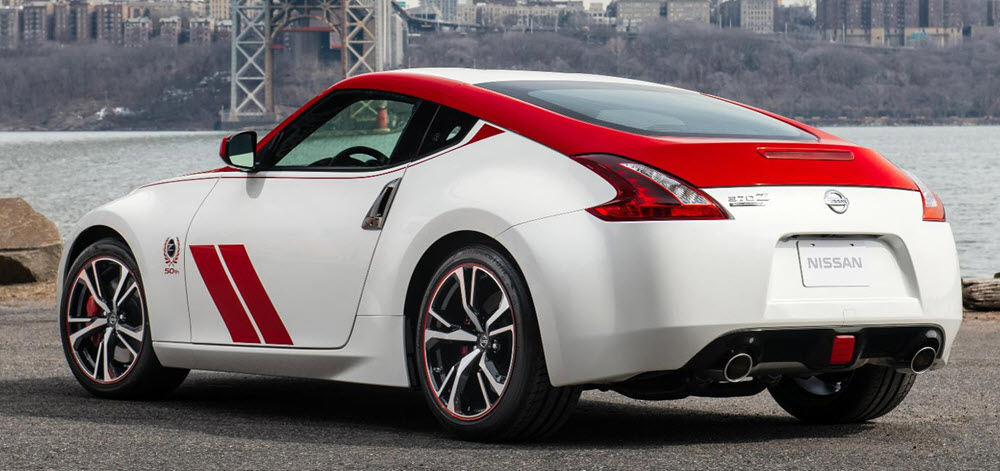 Oh, baby, the Miata can wait. I'm thinking I won't have to settle, after all.  How about a 50th Anniversary Edition of the Nissan 370Z? Nissan is celebrating 50 years of Z car performance with this bold looking anniversary model. So, what makes this an anniversary edition? Well, it's essentially an appearance package, and I'm good with that. The Z car has always been iconic looking and today's 370Z cars are no exception. The anniversary edition is available in two color schemes, white with red accents or silver with black accents.  Anniversary badging on the front fenders and special 19 inch wheels complete the exterior styling. The interior includes additional 50th Anniversary Edition badging, as well as specially trimmed leather seats and synthetic suede door panel inserts with red stitching.  The red contrast stitching and piping theme is carried throughout the interior cabin.
So, how much is this going to cost me? Not nearly as much as the 911 Speedster, that's for sure. The pricing for the Anniversary appearance package is only $2600 on top of the Sport model's base price, giving us a grand total of $36,420. Ah, that's much better. Where do I sign up?