The personal mode of transportation that we know as the family car has steadily undergone change and evolution over the past 50 years.  Obviously, vehicles today are smaller, pollute less, are much safer and go farther with less effort than ever before.  I have put together a chart below that will give you a thumbnail sketch of an idea of the multitude of changes that have resulted in today's four-door family sized sedan.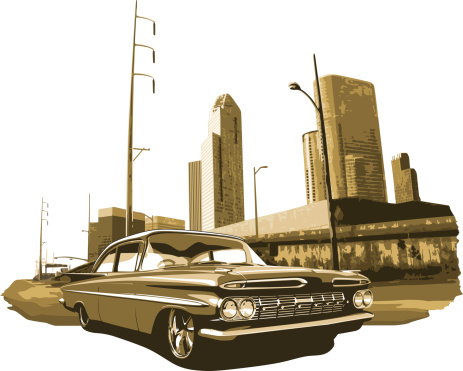 Year   Make/Model                         Length    Weight    Engine     HP   Transmission                 MPG
1960  Chevrolet Impala sedan     210.8      3,635       3.9L six   135   3-spd manual              14.4
1970  Chevrolet Impala sedan     216.0      4,001       5.7L V8   250  3-spd manual                   12.2
1980  Chevrolet Impala sedan     212.1      3,494       3.8L V6   115  3-spd auto                     16.2
1990  Chevrolet Caprice sedan   212.2      3,693       5.0L V8   170  4-spd auto                             15/23
2000  Chevrolet Impala sedan     200.0      3,389       3.4L V6   180  4-spd auto                    17/29
2010  Chevrolet Impala sedan    200.4       3,555       3.5L V6   211   4-spd auto                   18/29
NOTE:  Information above is for the BASE model for each year featured.  Single MPG figures are combined, dual numbers represent city/highway fuel economy.
As you can see above, horsepower AND fuel economy has trended upward together over the last 50 years, even as engine displacement and vehicle size has been reduced. That's just the obvious. Starting with the 2000 model year, the Impala went from rear-wheel drive to front-wheel drive – resulting in better traction and control, as well as a continued reduction of overall weight.
Other not-so obvious changes – Starting about 1997, the entire exhaust system changed over to stainless steel.  The result has been a virtual elimination of exhaust pipe and exhaust pipe accessories replacement due to rust.   The spark plugs that used to require replacement every 30,000 miles, now (thanks to computer control) last over 100,000 miles.  That same computer control that debuted in the early 1980's combined with electronic fuel injection has pretty much eliminated the challenges of pumping the gas pedal in order to start the vehicle in cold weather and prevent flooding of the engine during other conditions.   The automatic transmission is sealed for life – no adding fluid and no adjustments – and is good upto 150,000 miles.  Same goes for the radiator coolant – also good for upto five years.  Even your car battery is sealed for life – no need to add water due to evaporation.
You probably haven't noticed, but your car also stops dependably and straight in most any situation.  This is due to four-wheel disc brakes that have pretty much become the norm – even pickup trucks and some entry level passenger cars feature them.  Four wheel disc brakes eliminates "wet brakes" due to moisture (i.e. rain or driving through standing water), dissipates heat quicker and more evenly than drum brakes and lasts much longer.   Today's vehicles combine disc brakes with four-wheel anti-lock technology that debuted in the early 1990's to assure faster and shorter stops in panic situations without a loss of control.  In recent years, stability control has also been integrated into the braking and control system to eliminate skidding and further improve driver control in a variety of road and emergency situations and conditions.