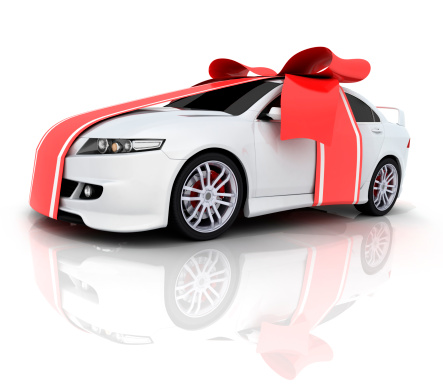 It's that time of year again where you are trying to figure out just the right gift for that automotive-type person in your family. Where do you start? Well not to worry, because I have just the place for you – your local new vehicle dealer.
Nope, we are not talking about buying a major, big-ticket, shiny item (unless that is on your shopping list this year), but about finding the right automotive stuff for that one who is hard to please.
In recent years, the Parts Department of the local new car dealership has actually expanded past the traditional – featuring an actual "store within a store" concept.  Not only can you find branded trinkets of all kinds, but you can also purchase automotive branded apparel, accessories and gifts there as well.
BMW produces a brochure called BMW Lifestyle that features clothing for BMW enthusiasts, as well as luggage, purses, wallets and even cufflinks.  Key rings, travel mugs, writing pens, sunglasses and watches are also offered.   The BMW catalog also includes a section for kids with BMW "baby racer" push cars, sleds and bicycles.
For the hardcore off-roader, Jeep has "Jeep Gear" – gifts and gear for the Jeep Enthusiast.  While there is the traditional Jeep-branded camping gear and related equipment, Jeep also offers apparel of all kinds, including specific items just for kids.  Jeep even has baby strollers and bicycles too.  Also unique to Jeep is a "pet bed" that the automaker says is ideal for long road trips with your four-legged friend.
The same can be said for Chevrolet, (i.e. Camaro and Corvette) as well as Ford (i.e. Mustang and Thunderbird).   Chances are, there is more at the local dealer today than ever before.  It's worth a trip to find out.
Of course, you can always find a specific manufacturer's offerings online if going to the dealer is not practical for you.
"OK," you say. "That's fine." But your intended is more of a classic and collectibles type … then what?  Again, not to worry.  Through the miracle of the Internet, there are thousands of reputable sites and stores that cater to the automotive aficionado.  eBay, Amazon and automaker-specific websites offer thousands if not millions of choices of all kinds.  Dealing with a recognized website like Amazon or eBay will help mitigate most issues with security, selection and payment.  In addition, they have established return policies if you need to return or exchange an item.
This is definitely the case where the use of Google can be your friend, especially if you are looking for that specific something.  The only challenge you will have when ordering online during this time of year is making sure you will have it in time.  This is the busiest time of the year for many retailers, so check to see what shipping options you might have in case you have to have your order expedited.  Also, you may qualify for free or upgraded shipping depending on the dollar amount of the purchase.  Be sure to check to also take advantage of any sales or additional discounts.