While engineers and designers have dramatically upped their game when it comes to creating cars that are stylish as well as practical, it's also important for said designers to let their imaginations off the leash a bit, so to speak. Thus we're often given memorable and stylish (but not always highly practical) concept cars. The following is a look at some of the newest and most memorable concept cars that have sparked our interest and imagination lately.
Nissan IDS
When Steven Spielberg was developing his film adaptation of Minority Report, he worked with planners, engineers and designers to create a future that could plausibly exist 50 years from when the movie would come out. One such projection was the proliferation of self-driving cars. Google has lately been the biggest force behind the development of such cars, but Nissan's newest concept with the IDS shows that it may be the first to actually achieve the of a wholly autonomous vehicle. It's an all-electric vehicle that the manufacturer is claiming will help all but eliminate driver fatalities, in effect fulfilling the "zero emissions, zero fatalities" mantra they espoused a few years ago. Its 60kWh battery would allow it to drive up to 310 miles on a single charger, while the interior is designed to resemble that of a comfy living room than a standard car interior. There's no release date, but should Nissan go fully forward with the concept they anticipate it hitting the market in 2018.
Opel GT
When one thinks of "exotic sports cars" the Opel brand likely isn't among even the top five names that would immediately come to mind for the modern consumer. True, the company does have a history of crafting such cars with the GT, CD and GT2 but those cars were introduced decades ago in what might as well be considered a different era. That said, Opel is definitely drawing influences from that past era with the reintroduction of the GT with this concept with rear-wheel-drive and curves that feel very much like the modern equivalent of what its namesake bore. It's powered by a 1.0L three-cylinder engine that manages to hit 60 mph in just under 8 seconds and tops the speedometer out at about 130 mph. There's no word on if this will actually go into production, but they've certainly got what seems like a slick and peppy prototype on their hands.
BMW I Vision Future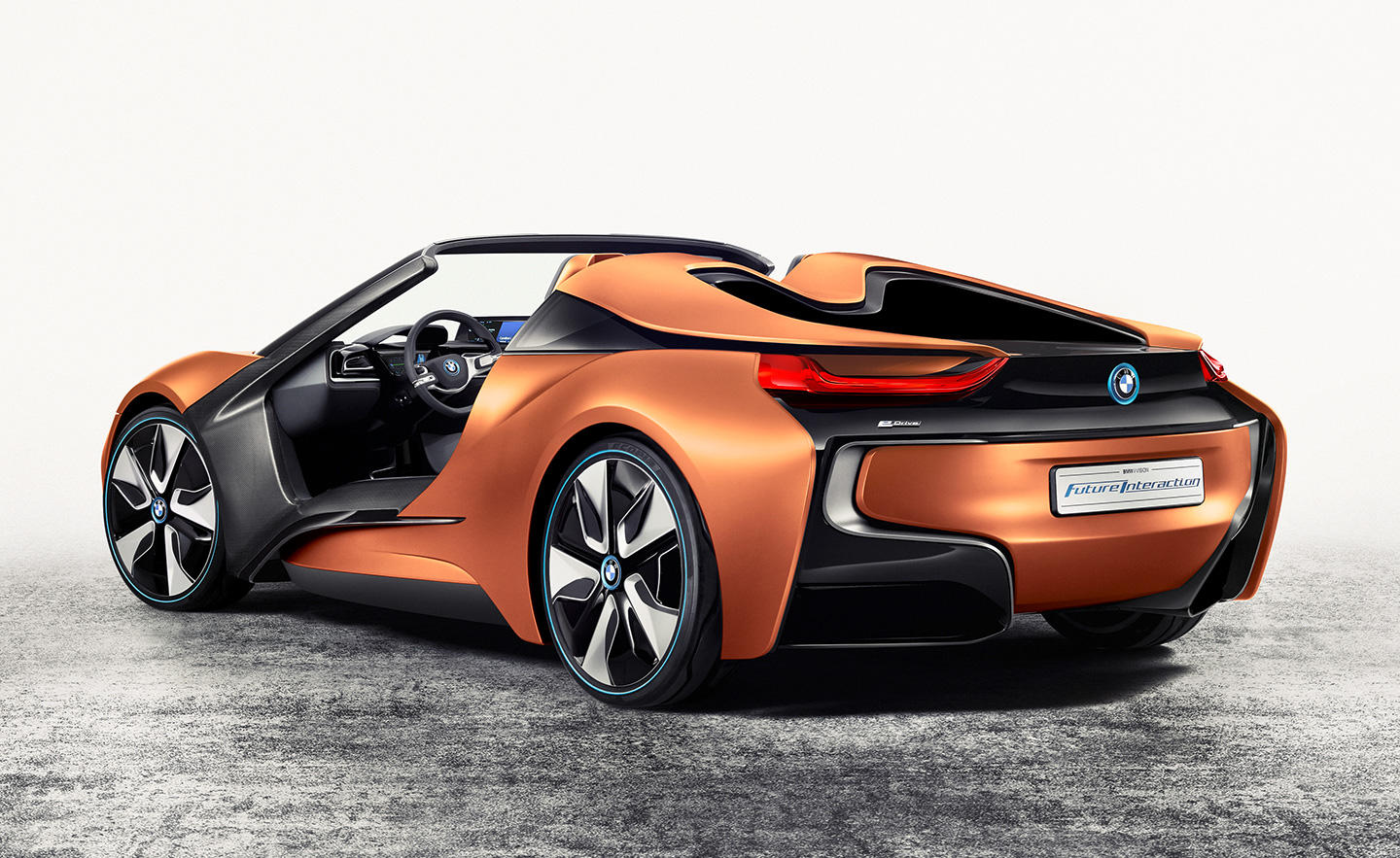 A quick glance at the I Vision Future makes it seem like you're simply looking at a slightly more spiffy version of the BMW i8 Concept Spyder. But look a bit closer (and inside, to be more precise) and you'll see that this is something a bit more advanced than that concept, bringing it closer to the version of the car seen in Mission: Impossible Ghost Protocol. In addition to an advanced level of autonomous driving controls, this concept also features enhanced touch-sensitive surfaces, three-dimensional displays and even gesture controls that allow the user to simply point at an item or feature and have it activate. Let's hope that BMW chooses to accept its mission to make this into a real car.
Mazda SEMA MX-5 Miata Speedster
Let's face it, there's almost zero chance that Mazda ever actually puts this out for consumer production. The simple fact that it's a car with no top, no roll bars and no windshield means it might be one of the most impractical concepts out there, and that's saying a lot. And yet, there's a certain appeal that comes with seeing a design like this, one that basically screams "Get in this and you can pretend that it's like you're on the track at Le Mans or Nurburgring" as the wind whips through your hair. It's certainly got the engine for it with a 155 horsepower, 2.0L four-cylinder that produces 148-lb. ft. of torque. Then again, you could always kick out the window of your current Miata MX-5 but something tells us it wouldn't be quite the same.