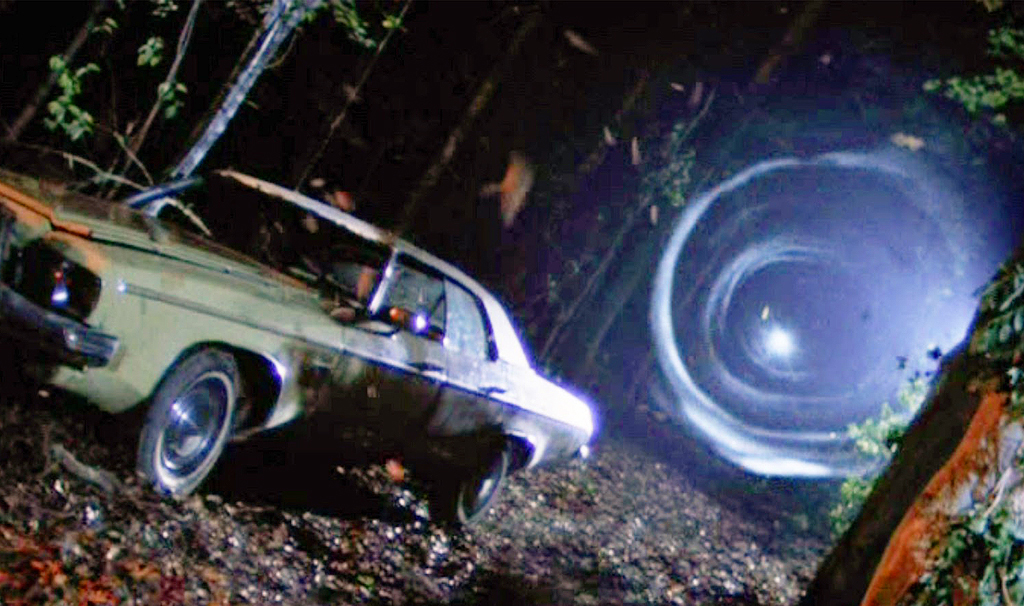 In Hollywood, whether it's on TV or the silver screen, a car can often be as memorable as the hero (or villain) that drives it. James Bond's Aston Martin DB7, Thomas Magnum's Ferrari, the Batmobile, K.I.T.T., the General Lee, Doc Brown's DeLorean, all of these are the cars that get drooled over and have fans waxing nostalgic, and for good reason. But what about the cars that are pretty great in their own right but have none the less managed to slip through the cracks of pop culture? That's where this list comes in. We'll be taking a look at some of these flashy, fun rides that deserve their moment on the showroom floor.
THE CAR: "THE CLASSIC," 1973 OLDSMOBILE DELTA 88
THE MOVIE: NEARLY EVERY SAM RAIMI MOVIE EVER
THE DRIVER: VARIOUS
Some directors love working with the same actors, cinematographers, writers, composers, producers (et al) again and again. Sam Raimi, however, loves working with the same car.
Oh sure, Raimi has made multiple films with actors he loves, such as B-movie king Bruce Campbell, but not even Campbell has had as many recurring appearances as Raimi's beloved Olds. Nicknamed "The Classic," Raimi has given the car a cameo in nearly every single film he's ever made, including the amateur short films he made prior to his feature debut with "The Evil Dead" in 1982. Only "Oz: The Great and Powerful" and the theatrical cut of "For Love of the Game" are missing an appearance by The Classic. Yes, that means it's somewhere in Raimi's stylized Western, "The Quick & the Dead," though he refuses to divulge just where he's hidden the car within the movie. I wouldn't go so far as to call The Classic a versatile vehicle, but Raimi's usage of it has certainly been creative and it has seen no shortage of colorful actors and characters sit behind its wheel.
The most notable is its appearance in the Evil Dead trilogy. It drives doofus Ash Williams (Campbell) and his friends to a remote cabin in the first two films, but in the third it gets converted (upgraded?) into a whirling dervish of death and destruction as the "Deathcoaster" when it's transported back to medieval times alongside Ash for the trilogy's third film, Army of Darkness.
Its next appearance was in the (somewhat disastrous) crime comedy Crimewave, wherein Campbell (who also starred as well as produced), who had grown to loathe The Classic over the course of his friendship/collaboration with Raimi, attempted to "kill" the car by having it stripped down to its most basic parts (including pulling out most of the seating, the engine block and transmission as well as welding the wheels into the wheel wells). Raimi quickly discovered his friend's ploy and proclaimed, "Hard as you try, you will NEVER kill the Classic!" This anecdote is hilariously recounted in Campbell's autobiography, "If Chins Could Kill," a highly recommended read for fans.
Raimi was right, of course. The Classic has remained. It broke Liam Neeson's fall as he burst through a window in Darkman. It helped Uncle Ben (uknowingly) drive Peter Parker to a wrestling match that would change the course of both their lives forever. And it served as the spot where Christine came face to face with a malevolent Gypsy in Drag Me To Hell.
It's not hard to understand why Raimi would keep giving The Classic appearances in his films. Hitchcock had his cameos. J.J. Abrams has his lens flares. Raimi has The Classic. His films have always been distinct in tone and visual style, but the sustained recurrence of The Classic is always a fun reminder that you are, undoubtedly, watching a Sam Raimi film. But it's also a fitting symbol of who and what he is as a filmmaker. It's symbolic of the off-beat choices he imbues into his craft, and also his insistence at doing things his way, a way that feels wholly unique.